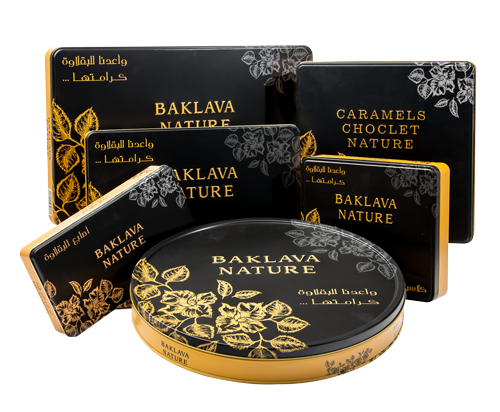 Établie en 1996, Al Fouad Packaging est parmi les pionniers de l'industrie et de la fabrication de packaging en métal en Égypte et le Moyen-Orient. Nous concevons et produisons de différentes formes et tailles d'emballages en fer blanc pour de multiple usages (produits alimentaires, confiserie, produits de beauté, ustensiles de bureau, usages domestiques, emballages conçus pour l'industrie des textiles, produits promotionnels, emballage du tabac, etc.)
Offrir la meilleure qualité dans le domaine, être le premier choix de nos clients à l'international à tous les niveaux (qualité, conceptions, diversité et prix)
Nos objectifs sont ambitieux, et c'est pour cela que nous visons à pourvoir à nos clients des emballages en fer blanc de meilleures qualités et d'une conception unique pour servir leurs besoins à des prix abordables.
Pourquoi choisir les emballages en fer blanc ?

QUALITÉ
As a manufacturer of metal tins, the strict quality policy is an essential part of our corporate strategy. Therefore we focus on the standards that our customers must comply with and prove. We continuously optimize systems, processes, and production to ensure the highest product quality in the future too.

SOUTIEN TECHNIQUE
Efficiency pays off: Our technical support has already been helpful to many companies, having been able to make filling their metal packaging substantially more efficient. As a skilled consultant, we advise and support you in all questions relating to production line concepts and engineering, as well as during the modification of existing or the evaluation of new filling machines or procedures.

GARANTIE
Alfouad for trading & industry process system , we are proud of the work we do and the systems and components we supply to our customers , we take steps to build at the highest standards through proper design and diligent quality control , our guarantee , no mater how big or small the project , al fouad for trading & industry will devote the time & resources required to ensure we have exceded your expectations .