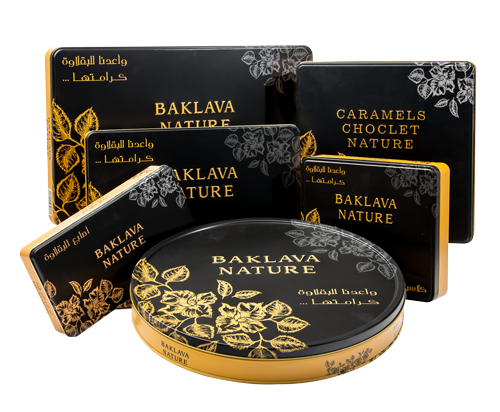 Al Fouad Packing is a leading provider of tin packaging solutions in Egypt and the Middle East. As a subsidiary of Al Fouad for Trading and Industry, established in 1996, we have a long-standing reputation for excellence in the industry. Our factory, located in Egypt, specializes in designing and producing tin packaging in a wide range of shapes and sizes to meet the diverse needs of our customers.
With over 60 different shapes, including 3-piece, 2-piece, oval, heart, and more, our product range continues to expand to meet the evolving demands of our clients. In 2023, we expanded our operations with a new 10,000 m2 facility, fully equipped with the latest technology and meeting the highest international standards for quality and safety.
To create packaging solutions developed around your product and unique brand values, design to ensure your product stands out with customers at the point of sale.
Doing what's right for the customer, to provide our customers with the best-in-class metal packaging that is uniquely designed to serve their requirements at affordable prices.

QUALITY
At Al Fouad, quality is a top priority and is woven into every aspect of our manufacturing process of metal tins. Our focus on meeting and exceeding industry standards is reflected in our commitment to continuous improvement of our systems, processes, and production. Additionally, our commitment to quality extends to our employees, as we invest in their growth and development through various training and educational opportunities

TECHNICAL SUPPORT
Efficiency pays off: Our technical support has already been helpful to many companies, having been able to make filling their metal packaging substantially more efficient. As a skilled consultant, we advise and support you in all questions relating to production line concepts and engineering, as well as during the modification of existing or the evaluation of new filling machines or procedures.

GUARANTEED
Alfouad for trading & industry process system , we are proud of the work we do and the systems and components we supply to our customers , we take steps to build at the highest standards through proper design and diligent quality control , our guarantee , no mater how big or small the project , al fouad for trading & industry will devote the time & resources required to ensure we have exceded your expectations .